Starting the millennium with the minimalist aesthetic of the late 1990s. Then Fashion begain to move away from it, round about 2003. So now just explore what happened on high street / high end fashion during the so-called "The 1990's 2000s"
1. Denim
Dark denim was popular in the first half of the decade. This trend hits its highest in 2004, but it made its comeback during the early 2008 which sure have reached higher points.
Mens Denim in the early part of the decade was dominated by wide straight leg styles, so called "The American Diesel Kind"
Womens Denim was generally fitted through the seat and thigh down to the knee, with the leg opening either boot-cut or flared, bit like the 80s kind, but not too wide. Low cut waists became increasingly popular during the late first half of the decade.
2. Dresses And Skirts
Formal dresses featured plunging necklines and backlines, straps made with shiny fabric was quite popular during the early 2000, also in bright colours too. until the Boho Fashion came about in 2003.
3. The Early Hip-Hop Culture
Simply the "hoodies and sweatpants" influenced many subcultures. Within hip hop clothing, baggy jeans, denim-jean jackets with matching jeans were popular, along with tracksuits (where Juicy Couture came round about) primarily made of fleece that matched top and bottom usually worn with a headband for men (O_O - HW). Bandanas were popular too from late 2000 to early 2002.
4. "Tough guys wear pink"
The craze hit young member of the hipster, preppy and British chav subculture during the mid-2000s, until round 2007, where its mainly replace by "Abercombie Guy" with vintage polo and straight loose jeans.
5. Biker Fashion
It usually worn by a notable subculture of teenagers, based on the biker, rocker and leather subcultures. But nowadays, most retailers treats the look as in their "High Autumn" season look, and its getting feature mostly every Autumn/Winter season.
6. Pop Hip Punk Fashion
Its characterized by wearing bagging jeans, wristbands/headband, spikey hair (emo), patrol caps or trucker hats (Hip Hop), and Aviator sunglasses, with additionally fupp-zip hoodies (which turned into urban and preppy during the lates) was very popular till mid-2000s, when it diffuses into other kinds.
7. Activist Fashion
Not been a hit, but its about.
8. Boho-Chic
Started as an underground fashion in 2000, then emerged in mainstream as influenced by Sienna Miller. It reached its peaked round 2005 and was commonly associated with Ashley Disen. The trend slags into the late 2008s until its completely gone.
It featured loose, flowing tops; A-line skirts, and usually uneven hemlines.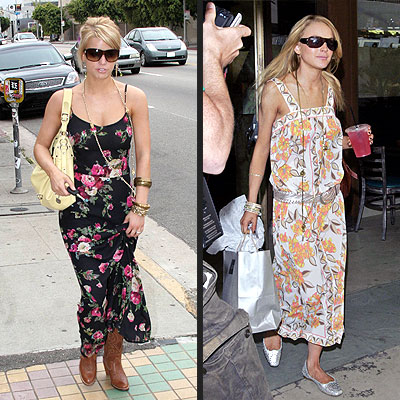 9. Cam'ron trend
Polo tops, and striped dress shirts were (still) the nom amongst young males dress-up code (KIDS, its not anymore LOVE!!!!!!) but till 2008, when its replaced by button-down shirts (same thing!), hoodies, tees.
10. 2004/5
The year considered to be the year of the culmination of new and the abomination of the old.
The trends before 2004/5, like the Boho, dark denim went. with new ones, like Hedi Slimane, go skinny!!
white jeans came, acid-wash, distress denim. or "get a t-shirt and chop it up"
The Late 2000's to look ahead :P
A New decade to look ahead. What you thinking about? =D